Hello!  As a "thank you" for even considering a donation to my podcast, I have recorded a new story for you.  The story is short – 15 minutes – and features my favourite Bronze Age storyteller:  a guy named Demodocus.  I think you will have fun with the story and – hopefully – it will convince you to donate.  Have Fun!  Be Convinced!   And Have an Awesome Day!     Jeff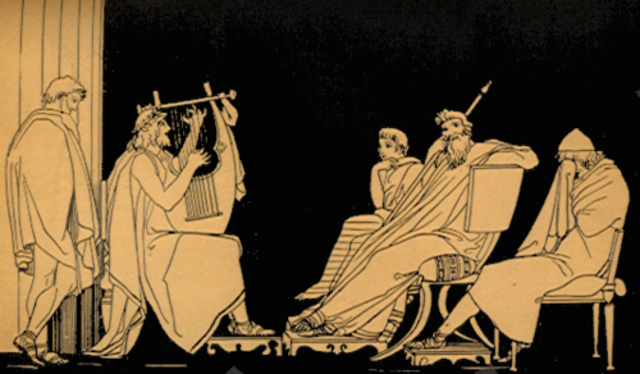 Podcast: Play in new window | Download
If You Choose To Donate:
This is a one-time donation in support of Episodes 1-20 of Trojan War: The Podcast.
Your donation is my podcast's only source of funding.  I have chosen to not interrupt your listening experience with commercial messages.
Your donation helps offset my monthly fixed costs (cloud server hosting of episodes & website) and acknowledges the hundreds of hours of time, labour, (and love) I have invested in creating Trojan War: The Podcast for you.
I am grateful for your donation.  For every dollar that you send me, I will re-donate 10% to other podcasts.   I will do my best to support excellent podcasts in need of a "helping financial hand".  And I will send you a note, letting you knew which other podcasts you have helped to support.
How Much Should I Donate?
If you have listened to my Demodocus story, you know that Demodocus made his living telling stories from the Trojan War Epic.  And you know that Demodocus offered every audience, regardless of their financial means, his very best show.  But Demodocus understood that of all the coins donated to his "storyteller's hat", a few would be gold, some would be silver, and many others would be only copper.  Now it wasn't that the "gold folks" valued the stories more highly than did the folks giving silver or copper.  Everyone in the audience was simply donating in proportion to their means.  And for some listeners, even a copper coin was too much.  So when those listeners instead offered Demodocus just their heartfelt thanks, for Demodocus that "thanks" was as good as gold!
PayPal and credit card link included.  To donate via e-transfer or personal cheque, contact me at info@jeffwrightstoryteller.com for easy instructions.
---
 "Zeus has showered me with blessings"
---
"The Fates have blessed me with a comfortable, financially secure life"
---
"Deadly Destiny has been unpredictable: blessings or curses – who knows what will come next"
---
"The Furies have determined that my "path-to-happiness" will not be through money alone"
 Suggested one-time donation:  Send me a "good as gold" email, letting me know that you enjoyed my podcast.  I will be delighted to hear from you!
---